About us:

MÖLLER–CHEMIE Steinpflegemittel GmbH has been cleaning, protecting and caring for natural stone, ceramic and artificial stone for over 40 years. Our aim is to provide consistent, high quality products, as well as acting as a support partner for specialist companies in their stone treatment.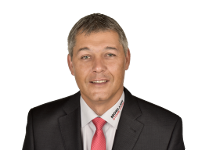 Jürgen MöllerManagement
The company, founded in Ihrlerstein by Mr Helmut Möller (died 2003) in 1977, is currently headed by the 2nd generation of the family, Mr Jürgen Möller, and has expanded to more than 40 countries across the globe. Our broad range of products comprises almost the full scope of treatments for natural stone and tiles, and is constantly being developed.

The service we provide to customers is of great importance to our company. Therefore, customer care is conducted by experienced field workers and supported by technical consultants in the company headquarters. We are also regular and successful participants at international trade fairs.
Our company values high quality and harmonious personal relationships. This is reflected in our products, in our contact with our customers, in our employees and in our social engagement in the Kelheim region.
gez. Jürgen Möller, Management