HMK S240 - JOBSITE PROTECTOR AND GROUT RELEASE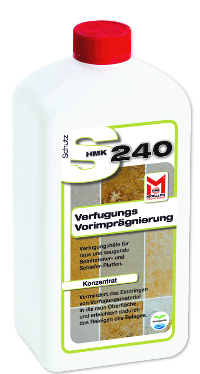 Pre-grout treatment especially suitable for rough and highly absorbent natural and artificial stones.
Reduces the penetration of grout into the rough surface finishes and facilitates subsequent cleaning.
Description
HMK® S240 is a concentrated solvent-free pre-grout treatment. HMK® S240 forms a protective film on the sur-face that reduces the penetration of adhesive, cement and grout into all finishes but is especially good for sawn, sandblasted, flamed and riven natural and artificial stones. HMK® S240 facilitates the subsequent clean-ing and general maintenance of the surface. For interior and exterior use.
Packings:
Coverage:
About 40-60m²/litre


---