HMK R169 - STONE CLEANER - spezial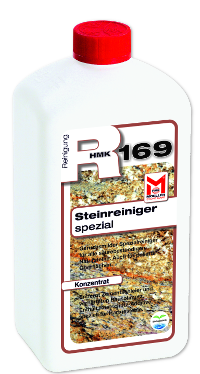 Special low odor cleaner for all acid-resistant natural stones.
Also suitable for use on polished surfaces.
Removes cement residue and dried building dirt.
Contains rust inhibitors, especially developed for hard stones.
Description
HMK® R169 is a special low odor concentrated cleaner for removing cement and mortar residue, lime scale, rust and dried in building dirt from all acid-resistant natural stones. For internal and external use. HMK® R169 is especially suited for cleaning polished and hard stone. The rust inhibitors contained in HMK® R169 make it extremely suitable for the cleaning of areas liable to rust staining. Deposits left from abrasives used in polish-ing/honing the surface are also removed.
Packings:
1 litre bottles
5 litre cans
10 litre cans
Coverage:
About 10-60m²/litre


---