HMK P727 - RE-POLISHING POWDER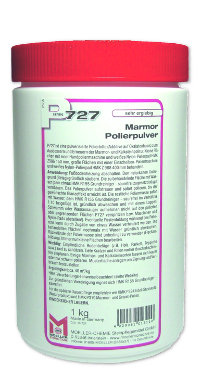 Restores natural shine without coating the surface.
For interior calcareous stone, such as marble, limestone, travertine, terrazzo.
Not effective on granite.
Description
HMK® P727 is a polishing powder for repairing and renewing the polish of marble and limestone surfaces, us-ing special polishing machines. For professional use only. HMK® P727 contains oxalic acid and can etch the surface if applied incorrectly.
Packings:
Coverage:
About 30-40 m²/kg


---