HMK P330 - TERRACOTTA OIL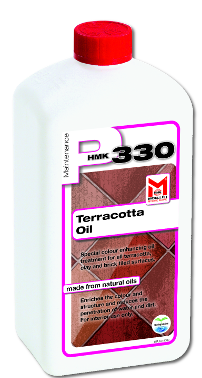 Special color enhancing oil treatment for all terracotta, clay and brick tiled surfaces.
Made from natural oils.
Enriches the color and structure and reduces the penetration of water and dirt.
For interior use only.
Description
HMK® P330 is a ready to use terracotta treatment made from natural oils that enrich and protect the color and structure of terracotta, brick and clay tiled surfaces. Porous surfaces become more water and dirt repellent and easier to maintain. HMK® P330 is not hazardous to health. For interior use only. Do not use in wet areas such as shower cabins.
Packings:
1 litre bottles
5 litre cans
Coverage:
About 5-15m²/litre


---