HMK P315 - PORCELAIN TILE CARE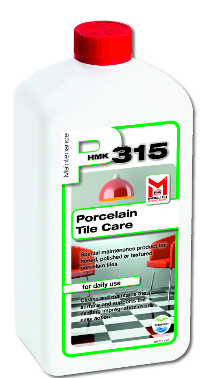 Special maintenance product for honed, polished or textured porcelain tiles.
Cleans and maintains the surface and supports the existing impregnation in one easy action.
For daily use.
Description
HMK® P315 is a mild concentrated cleaner with highly active ingredients that clean and maintain honed, pol-ished, textured and glazed porcelain tiles. HMK® P315 has been specially developed to enhance the appear-ance of porcelain wall and floor tiles and contains special ingredients that enrich the color and structure of the surface. If used regularly, a resistance to stains is developed and the tiles will become easier to clean. It's wa-ter-soluble ingredients also prevent the buildup of film usually caused by soap residue.
Packings:
1 litre bottles
5 litre cans
Coverage:
About 1.500 to 2.000 m² per litre


---